Ski Austria
Austrian ski areas closing dates 2022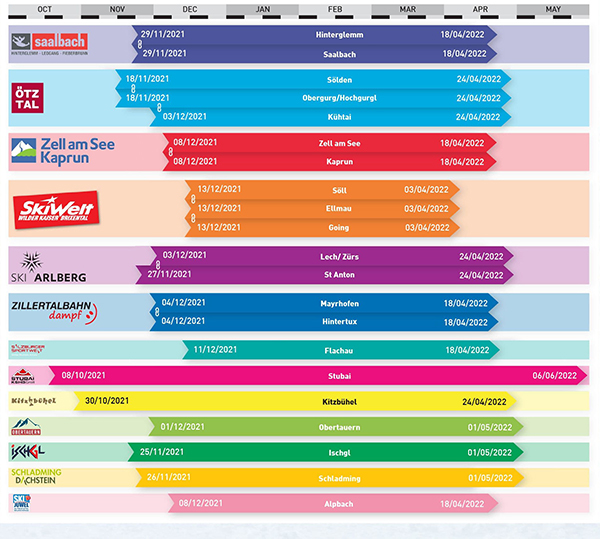 Austria: Laatste sneeuwomstandigheden overzicht
Summary of forecast snowfall and ski conditions for resorts in Austria. Fresh snow is forecast at 31 resorts. Powder is reported at 0 resorts and 0 are reporting good piste conditions.
Recente Ooggetuige Sneeuwberichten voor Austria
Shower light rain shower reported from Fliegerhorst Hinterstoisser (Zeltweg) at 538 metres elevation 8 kms WNW of Kleinlobming but it is forecast cold enough for snow at higher elevations in the ski area

Weerobservatie met radar:

Light snow is falling at altitude in Flattach.

Weerobservatie met radar:

Snowing lightly on the slopes above Heiligenblut.
Ski resorts in Austria from A to D
Gebied

Boven en dalstation
sneeuwdiepte

Op-Piste

Off-Piste

Laatste sneeuw

Volgende 9 dagen
0–3 | 3–6 | 6–9
sneeuw (

cm

)
Weersvoorspelling voor de volgende 5 dagen
Vriespunt Niveau (

m

)
Wed
Thu
Fri
Sat
Sun

Abtenau

(950 m — 1780 m)

opens in 170 days

2

cm




36 dagen geleden

Midstation

1365

m

3000

 

m

2800

 

m

2450

 

m

3050

 

m

2850

 

m

Achenkirch am Achensee

(950 m — 1780 m)

opens in 150 days

1

cm




37 dagen geleden

Midstation

1365

m

3050

 

m

2850

 

m

2550

 

m

3250

 

m

3050

 

m

Admont/Kaiserau

(1127 m — 1500 m)

opens in 164 days

1

cm




37 dagen geleden

Midstation

1314

m

3000

 

m

2800

 

m

2500

 

m

2950

 

m

2800

 

m

Aflenz

(810 m — 1810 m)

opens in 157 days

1

cm




37 dagen geleden

Midstation

1310

m

3000

 

m

2750

 

m

2600

 

m

3000

 

m

2800

 

m

Alberschwende

(721 m — 1201 m)

opens in 155 days

2

cm




71 dagen geleden

Midstation

961

m

3100

 

m

2850

 

m

2750

 

m

3500

 

m

3400

 

m

Alpbachtal

(813 m — 2025 m)

opens in 150 days

1

cm




36 dagen geleden

Midstation

1419

m

3100

 

m

2850

 

m

2550

 

m

3250

 

m

3050

 

m

Alpl bei Krieglach

(1000 m — 1280 m)

Midstation

1140

m

3050

 

m

2800

 

m

2700

 

m

3050

 

m

2750

 

m

Altaussee

(750 m — 1750 m)

Midstation

1250

m

2950

 

m

2850

 

m

2450

 

m

2900

 

m

2850

 

m

Andelsbuch

(655 m — 1700 m)

opens in 164 days

1

cm




37 dagen geleden

Midstation

1178

m

3150

 

m

2850

 

m

2750

 

m

3450

 

m

3400

 

m

Annaberg

(800 m — 1333 m)

opens in 157 days

5

cm




66 dagen geleden

Midstation

1066

m

3000

 

m

2800

 

m

2450

 

m

3000

 

m

2850

 

m

Arabichl/Kirchberg am Wechse

(1349 m — 1593 m)

Midstation

1471

m

3000

 

m

2800

 

m

2700

 

m

3050

 

m

2750

 

m

Arnoldstein-Dreiländerecke

(680 m — 1600 m)

Midstation

1140

m

3400

 

m

3100

 

m

2750

 

m

3300

 

m

3150

 

m

Auffach

(1310 m — 1900 m)

Midstation

1605

m

3100

 

m

2850

 

m

2550

 

m

3250

 

m

3050

 

m

Axamer Lizum

(1560 m — 2340 m)

opens in 150 days

1

cm




26 dagen geleden

Midstation

1950

m

3150

 

m

2900

 

m

2650

 

m

3350

 

m

3200

 

m

Bad Gastein

(1080 m — 2230 m)

opens in 172 days

1

cm




26 dagen geleden

Midstation

1655

m

3150

 

m

2800

 

m

2600

 

m

3300

 

m

3050

 

m

Bad Hofgastein

(840 m — 2300 m)

opens in 150 days

1

cm




26 dagen geleden

Midstation

1570

m

3150

 

m

2850

 

m

2600

 

m

3250

 

m

3050

 

m

Bad Ischl/Katrin

(470 m — 1415 m)

Midstation

942

m

2950

 

m

2800

 

m

2400

 

m

2950

 

m

2800

 

m

Bad Kleinkirchheim

(1001 m — 2055 m)

opens in 155 days

1

cm




37 dagen geleden

Midstation

1528

m

3250

 

m

2900

 

m

2750

 

m

3250

 

m

3050

 

m

Berg in the Drautal/Emberger Alm

(1650 m — 2200 m)

opens in 164 days

5

cm




38 dagen geleden

Midstation

1925

m

3350

 

m

2900

 

m

2750

 

m

3400

 

m

3200

 

m

Bergeralm

(1019 m — 2231 m)

opens in 143 days

1

cm




26 dagen geleden

Midstation

1625

m

3250

 

m

2900

 

m

2700

 

m

3400

 

m

3300

 

m

Berwang-Bichlbach-Rinnen

(1075 m — 1740 m)

opens in 164 days

1

cm




67 dagen geleden

Midstation

1408

m

3150

 

m

2850

 

m

2700

 

m

3400

 

m

3150

 

m

Biberwier

(1000 m — 1800 m)

opens in 164 days

1

cm




37 dagen geleden

Midstation

1400

m

3150

 

m

2900

 

m

2750

 

m

3350

 

m

3150

 

m

Bizau

(681 m — 1700 m)

Midstation

1190

m

3150

 

m

2850

 

m

2750

 

m

3450

 

m

3350

 

m

Bodental

(1030 m — 1201 m)

opens in 157 days

4

cm




77 dagen geleden

Midstation

1116

m

3400

 

m

3100

 

m

2800

 

m

3200

 

m

3050

 

m

Brandnertal (Brand und Bürserberg)

(1037 m — 1920 m)

opens in 164 days

5

cm




42 dagen geleden

Midstation

1478

m

3250

 

m

2950

 

m

2800

 

m

3550

 

m

3500

 

m

Bregenz/Pfaender

(421 m — 1064 m)

Midstation

742

m

3100

 

m

2900

 

m

2750

 

m

3500

 

m

3400

 

m

Brixen im Thale

(620 m — 1957 m)

opens in 155 days

1

cm




36 dagen geleden

Midstation

1288

m

3050

 

m

2850

 

m

2500

 

m

3200

 

m

3000

 

m

Burglift – Stans

(560 m — 690 m)

Midstation

625

m

3100

 

m

2850

 

m

2600

 

m

3250

 

m

3050

 

m

Dachstein Glacier

(1200 m — 2701 m)

Midstation

1950

m

3000

 

m

2800

 

m

2450

 

m

3000

 

m

2850

 

m

Dalaas

(1000 m — 2301 m)

Midstation

1650

m

3250

 

m

2900

 

m

2750

 

m

3500

 

m

3450

 

m

Damüls

(1311 m — 2009 m)

Midstation

1660

m

3150

 

m

2900

 

m

2750

 

m

3450

 

m

3400

 

m

Defereggental/St Jakob

(1410 m — 2525 m)

opens in 155 days

1

cm




26 dagen geleden

Midstation

1968

m

3350

 

m

2850

 

m

2750

 

m

3400

 

m

3250

 

m

Diedamskopf

(850 m — 2060 m)

Midstation

1455

m

3150

 

m

2850

 

m

2700

 

m

3450

 

m

3300

 

m

Dienten

(800 m — 2000 m)

opens in 157 days

3

cm




36 dagen geleden

Midstation

1400

m

3050

 

m

2850

 

m

2550

 

m

3100

 

m

2950

 

m

Dobratsch

(1367 m — 2168 m)

Midstation

1768

m

3350

 

m

3050

 

m

2750

 

m

3300

 

m

3100

 

m

Donnersbachwald

(990 m — 2100 m)

Midstation

1545

m

3000

 

m

2800

 

m

2500

 

m

3050

 

m

2850

 

m

Dreilaendereck

(681 m — 1551 m)

Midstation

1116

m

3400

 

m

3100

 

m

2750

 

m

3250

 

m

3150

 

m

Durrnberg

(800 m — 1600 m)

opens in 164 days

1

cm




38 dagen geleden

Midstation

1200

m

3000

 

m

2800

 

m

2450

 

m

3100

 

m

2950

 

m