Wereld Sneeuw Overzicht
We hebben deze pagina gemaakt om u te helpen de beste sneeuwcondities te vinden. Het combineert verleden, huidig en toekomstige gegevensbronnen uit Snow-Forecast.com en woord regelmatig geactualiseerd. Het Sneeuw Overzicht wordt bijgewerkt op maandag en donderdag voor alle grote skigebieden. Live Ooggetuige Verslagen worden live getoond als ze via twitter door onze wereldwijde netwerk van verslaggevers zijn ingestuurd. De Skigebied Selectie lijsten geven lijsten van skigebieden uit de hele wereld aan waar nieuwe sneeuw wordt voorspeld, poeder wordt gemeld en de nieuwste sneeuwhoogtes.
SNOW NEWS UPDATED 20 JANUARY 2021

UPDATED 6 JANUARY 2021 Cold is perhaps the keyword to describe conditions in Europe this past week and indeed forecast around most areas for the week ahead. It is still early January and therefore, the darkest part of winter. You'd like to think that's how it would and should be, but the warm weather which has impacted much of the continent at times through the autumn and much of December makes you doubt it will get cold enough.
EUROPE INTRO A huge snowstorm, by far the biggest of the season so far for many areas in Austria, Germany and Switzerland, deposited up to 2.1 metres (7 feet) of snow on ski slopes across the Alps between Wednesday and Saturday last week. The heaviest snowfall was reported in Austria's Vorarlberg, where several resorts posted more than 1.5 metres (five feet) of snowfall in 72 hours, and eastern Switzerland, where there was up to 1.8 metres (six feet) in the same period. For the majority of ski areas across the wider area storm totals were more like 30-90cm (1-3 feet) but many got considerably more. The stormy weather also brought in gale force winds at times and many areas closed all or most of their terrain for one or more days as the storm blew through. All the snowfall did lead to high avalanche danger levels. Roads to some resorts were closed, effectively cutting them off, and on the slopes the danger level was raised to as high as level 4 (on the scale to 5) in many areas. In terms of changes to pandemic measures, the biggest news of the past week is arguably Italy's decision to keep its ski areas closed for almost a month more, to at least February 15th. The Austrian government also announced (on Sunday) that they would remain in full lockdown to at least February 8th and that hotels and restaurants could not re-open until at least the end of February, but slopes can stay open to locals. French and German resorts also look set to stay closed into February. Currently, ski areas are also closed in the Czech and Slovak republic, Slovenia and Scotland, among other smaller ski nations, are compromised but areas remain open in most other countries including Andorra, Bulgaria, Spain, Switzerland and up in Scandinavia.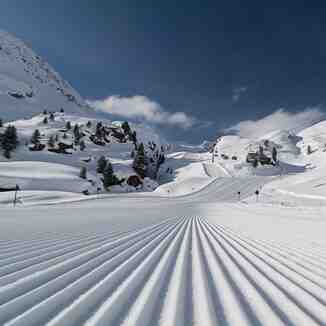 AUSTRIA REPORT Austria saw some huge snowfalls in the latter half of last week. Base depths at the Hintertux Glacier (70/370cm / 28/148") grew by 50cm (20") to become the deepest in the country but ski areas in the Vorarlberg province reported the most snowfall, as much as 170cm (nearly six feet) over four days up to last Saturday. Brand (90/170cm / 36/68") posted the biggest snowfall. Most Austrian areas saw the sunshine return by Saturday afternoon and many saw a sunny Sunday, but then the snowfall returned to start this week bringing another 10-30cm (4-12 inches) to most and making this the snowiest week of the season so far on Austrian slopes. As mentioned in the introduction, the Austrian government announced on Sunday that ski tourism is unlikely to resume in Austria until at least March.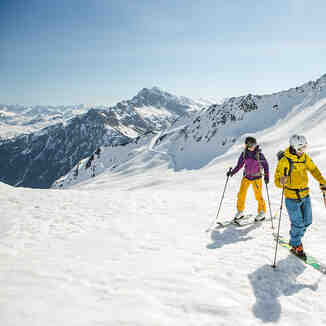 AUSTRIA FORECAST Temperatures are creeping up and in the latter half of this week will be in positive digits (above freezing) in most Austrian ski areas. The next few days should be dry but snow (hopefully snow and not rain) should return on Friday/Saturday and continue through the weekend in most areas. All being well the coming weekend will see the biggest event on the World Cup racing calendar, the Hahnenkamm downhill race takes place at Kitzbuhel.

SWITZERLAND REPORT Switzerland remains the only major alpine nation where ski areas are open to all who can and wish to get there. Even Wengen, where the Lauberhorn race was cancelled at the weekend due to a surge in the pandemic there, remains open. Resorts in the east of the country posted the biggest snowfalls in Europe in the latter half of this week, up to 2.1 metres (7 feet) reported. Engelberg (35/403cm / 14/161") received a metre (40 inches) of snowfall and became the first open ski area in Europe to post a four-metre base this season (some closed centres may have more). Arosa Lenzerheide (120/210cm / 48/84") also reported a metre of snowfall between Tuesday and Friday last week. Verbier (80/170cm / 32/68") and the 4 Valleys still has the most terrain open and now has more than 300km of runs open. The sunshine came out after all the snow in most Swiss resorts at the weekend, giving superb conditions, although with that high avalanche danger off-piste. There was more snowfall to start the week though.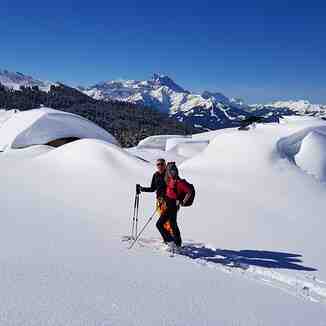 SWITZERLAND FORECAST The next few days will be dry with very low temperatures (5-10 degrees below freezing in resort and 10-20 below at the summits), but it will warm up and get into positive temperatures below about 1800 metres towards the weekend when some light to moderate snowfall is expected.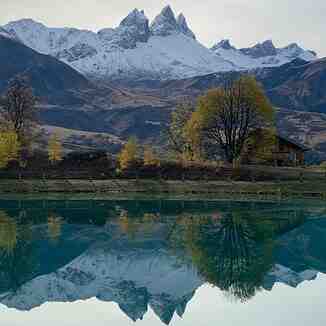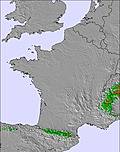 FRANCE REPORT French resorts fared well from the snowstorm that dominated the latter half of last week with most reporting at least 30cm (12") accumulations and many substantially more. Val d'Isere reported one of the bigger accumulations in the French Alps with 50cm (20 inches) of snowfall in 48 hours in the latter half of last week; however, Flaine posted the biggest total with a metre (40") of new snow reported there. The sunshine returned for most areas at the weekend. French resorts look likely to be told to keep their lifts closed for another month with an announcement from the government due on or by Wednesday 20th. The ski resorts themselves are largely open and offering dozen of activities other than lift-served downhill skiing.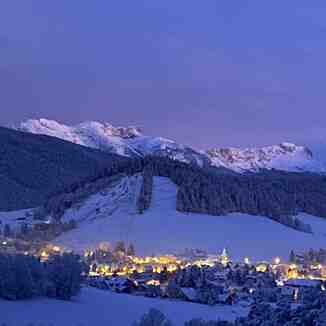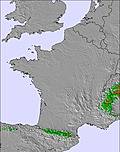 FRANCE FORECAST After all the snowfall it has been a dry start to the week in most French ski areas and that's likely to continue through to the end of this week. It is getting much warmer and some centres will see positive temperatures, particularly down at resort level, from around Friday. Precipitation is expected from Friday/Saturday, which will hopefully bring moderate snowfalls, although with warming temperatures there's currently a worry that this may fall as rain in some places, particularly at lower elevations for a time.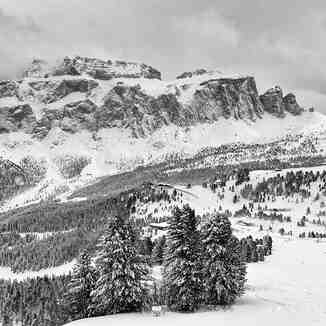 ITALY REPORT As mentioned in our introduction, the main news from Italy this week is unfortunately bad news, as the virus pandemic remains bad there. Ski areas which had hoped to open on Monday, are now to stay closed until at least February 15th, around the mid-point of the season. Dolomiti Superski announced they were 'optimistic' for the end of the season. As to snow conditions, they remain excellent at most Italian areas, Passo Tonale (200/600cm / 80/240") continues to post the deepest base in the world at present and reported 20cm (8 inches) of snowfall in the last week. Other areas may have had much more but they are not taking/posting measurements.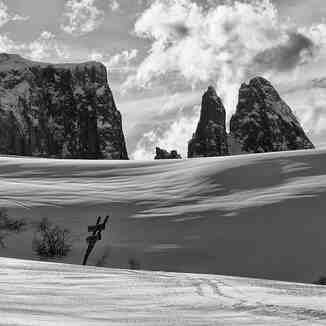 ITALY FORECAST It is expected to stay cold and largely dry for the next few days before temperatures rise closer to freezing from Friday and another round of what looks to be light to moderate snowfall is forecast over the weekend.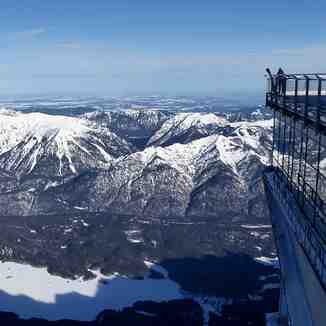 GERMANY REPORT German ski areas have had their snowiest week of the season so far, but they remain closed by the government until at least February. There were some huge snowfalls in Germany with the country's highest ski areas, Zugspitze glacier, posting pictures of buried snow grooming tractors last Thursday after 48 hours of non-stop heavy snowfall. The centre later posted the tractors had been dug out and were back in use.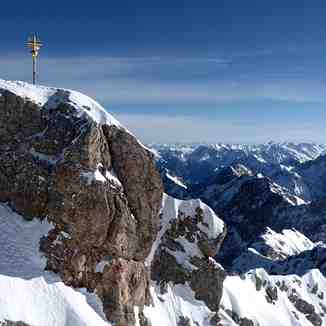 GERMANY FORECAST The week ahead looks warmer for most German ski areas with temperatures hovering around freezing point. There's not much snow forecast but towards the end of the week and into the weekend some precipitation is forecast, which may fall as rain at lower elevation areas, snow higher up and as we move through the weekend and temperatures drop more widely, almost everywhere by Sunday.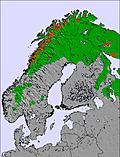 SCANDINAVIA REPORT After the heavy snowfall reported a week ago things have got quieter and stayed drier in most Scandinavian ski destinations, but temperatures have stayed cold with many areas seeing -20C or colder at times. Indeed, temperatures hit even lower lows than last week with Levi, in Finland, saying they had 'almost' dropped to -40C at times late last week. It has not been totally dry, there have been some small falls reported here and there, just rarely more than a few centimetres at a time.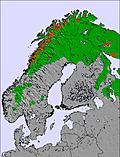 SCANDINAVIA FORECAST It's looking a little warmer and snowier for many Scandinavian areas as we move through the week ahead. Temperatures should climb to just a few degrees below freezing by midweek (perhaps briefly even climbing above freezing at some ski area bases) and 5-10cm (2-8 inch) accumulations are then possible daily through the weekend, but with Thursday/Friday currently looking likely to be the snowier days.

SCOTLAND REPORT It's no little irony that Scottish ski centres were closed by the pandemic just as conditions were looking great towards the end of the 2019-20 season last year, and now in 2021, as the season gets off to a much better start than usual, there's another lockdown with no clear end date in sight. Plenty more snow has fallen, temperatures have stayed pretty low (although did climb into positive figures in the valleys for the first time in a few weeks at the weekend) and essentially conditions look like they would be excellent if the slopes were open. At least cross-country skiers and ski tourers can enjoy themselves.

SCOTLAND FORECAST There's more snow in the forecast with Thursday-Friday looking particularly snowy. Temperatures should stay cold and the excellent ski season that isn't looks set to continue for the coming week.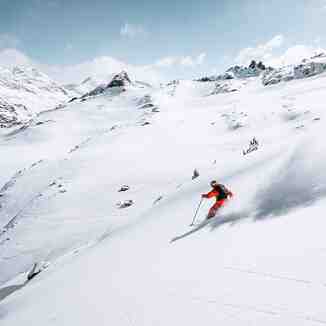 SPAIN / ANDORRA REPORT A comparatively quiet start to the week after all the snowfall in the Pyrenees earlier this week. The lockdown is getting ever tighter in Spain and staying tight in Andorra so there remains only a limited number of centres open in Spain as well as the two centres in Andorra, with skiing for local people only in each case. Ski areas in the French Pyrenees remain closed of course. There were worries Siera Nevada might close as Andalucia increased its restrictions but so far it has stayed open. Grandvalira (40/60cm / 16/32") has the most terrain open in the region but still only about 70km, about a third of its full domain.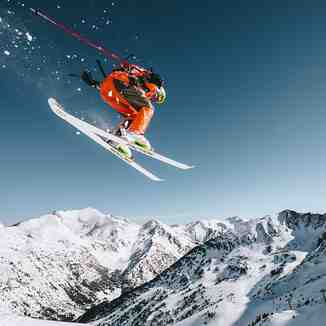 SPAIN / ANDORRA FORECAST Following a sunny day or two it looks like it will become increasingly snowy in the Pyrenees over the latter half of this week. Temperatures staying sub-zero and the snowfall moving on from around Sunday.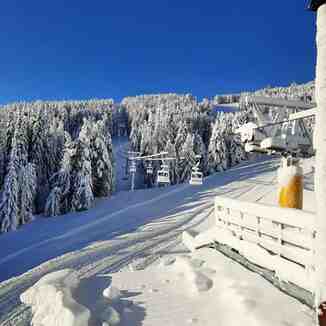 BULGARIA / ROMANIA REPORT Some very, very low temperatures in Southeastern Europe over the weekend and earlier this week, Bansko (0/100cm / 0/40") reported -20C was reached on the top of the mountain on Sunday. It has been predominantly dry in most of the region, however, although Pamporovo (60/120cm / 24/48") reported 176cm (six inches) more snowfall over the weekend.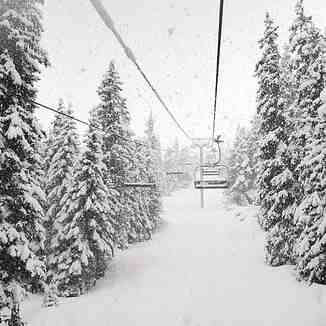 BULGARIA / ROMANIA FORECAST The very cold temperatures should slowly ease back towards freezing over the remainder of this week, ending up 4 or 5 degrees above freezing point by Friday/Saturday down at resort level. Fresh snowfall, perhaps 10-20cm (4-8 inches) in total, is forecast over the weekend.
CZECH REPUBLIC / SLOVAKIA REPORT The Czech and Slovak republics both reported some significant snow accumulations during last week's big snowstorms too. Closed Spindleruv Mlyn, in the Czech Republic, posted a 40cm (16") accumulation, greatly improving conditions there for when ski areas are allowed to open again. Ski areas in Slovakia had been expected to re-open this coming week but that currently looks unlikely with the pandemic danger levels at their highest status in the country. The leading resort of Jasna is offering cross-country skiing though and recently expanded the track network. It has been very, very cold, as low as -20C, in recent days though.
CZECH REPUBLIC / SLOVAKIA FORECAST Staying cold and dry for most of this week in the region although getting progressively warmer towards the weekend. A fresh wave of snowfall, potentially bringing 20-40cm (8-16 inches) of snowfall to the region, is expected over next Saturday/Sunday.

USA / Canada

NORTH AMERICA INTRO It was the first long weekend of the new year in the US (if you exclude New Year's Day itself) with Martin Luther King Jr. Day on Monday. There was plenty of fresh snow for those able to get to the slopes in both the northeast and northwest of the continent. In fact, ski areas in the Pacific Northwest saw more huge accumulations, some more than five feet in the past seven days, although there were also closures due to stormy weather, and at lower elevations, in particular, the snow turning to rain at times. Snow totals were not so dramatic as in the northwest and there were also issues at more southerly, low altitude locations where rain fell. Quite a lot of ski areas in the northwest of the continent posted fresh snowfall and powder conditions at the weekend. Some, indeed, reported more than a foot (30cm) on Saturday/Sunday resulting in the best conditions of the season so far, perfectly trimmed for the holiday weekend.

ROCKIES REPORT The Rockies, particularly in Colorado and Utah, continue to see snowfall totals well below the average for the season to date. One high altitude Colorado area reckoned it was five feet (1.5 metres) below its norm for mid-January in a recent snow report. But there has at least been some fresh snow, causing great excitement, in Colorado and Utah since Monday. The snow remains deepest up in the north with ski areas in Idaho, Montana and Wyoming posting the deepest bases to date, topped by Whitefish Mountain Resort (23/85" / 58/211cm) in Montana.
ROCKIES FORECAST It's looking promising for the coming week with temperatures staying cold (typically 5-15 degrees below freezing) but with an inch or more of snow forecast most days, So whilst there are no huge dumps forecast at present, it looks like most areas should see a few inches of fresh to top things off each morning over the next seven days.

USA WEST REPORT The Pacific Northwest of the USA continues to post the biggest snowfall in the country and has the eight deepest reported snow depths in the US now too, currently topped by Alpental (96/155" / 241/386cm). There's been more heavy snow in the region over the past week but also periods of strong winds and rain which has closed centres at times. Alyeska (39/150" / 97/376cm), up in Alaska, posted the greatest snowfall in the region and indeed in all of North America over the past seven days with a reported 7 feet (2.1 metres) of snow falling. It has been more consistently cold in California to the south, but unfortunately mostly dry and sunny too.

USA WEST FORECAST It should stay cold and sunny in California and the south of the region through the coming week although there's some snow forecast when a front moves in through the weekend, although most areas will only see a few inches of snowfall. It's looking warmer and mostly drier further north for the coming week too. Staying warmer here than in California again but rarely above freezing for the coming week.
MIDWEST REPORT One of the snowiest weeks for a while in the Midwest, at least in parts of the region with five to ten inches (12-25cm) of snowfall reported in states, including Michigan and Minnesota, in the past few days Welch Village (20/51" / 51/127cm) posted one of the biggest snow tallies and also has the region's deepest base at present. The past few days have been largely dry and cold (10-20 below freezing). Typical January for the region.
MIDWEST FORECAST A midweek blip should see temperatures pop briefly above freezing in many areas, just by a degree or two, before colder and sunnier weather for the rest of this week. Slightly warmer, but still below freezing into the weekend when the next snowfall is expected, potentially three to six inches (7-15cm) by Monday morning.

USA EAST REPORT The US Northeast has seen some of its best snowfalls of the winter so far, with some areas reporting almost two-feet (60cm) of snowfall over 48 hours. Before the snow arrived at the weekend there were some fears that it would fall as rain in some areas but fortunately, this was generally not the case. Ski areas in Vermont posted the biggest totals with Sugarbush (30/50" / 76/122cm) posting a 22 inch (55cm) fall and Killington (24/36" / 61/91cm) a 53cm (21") total, dramatically improving conditions and giving a powder skiing holiday weekend.

USA EAST FORECAST It's looking largely dry after the snowy weekend and start to this week. Cold though with temperatures as low as 20 below freezing, and a lot of clouds. The current forecast is for some light snowfall at the weekend, but otherwise uneventful.

CANADA WEST REPORT There were more big falls late last week with Kicking Horse reporting 40cm (16") of fresh snowfall in 24 hours before skies cleared in time for the weekend. Since then the sun has been out in most areas and just a few centimetres more snowfall has been reported here and there. Most ski areas in the region are fully open with all runs open, all lifts turning. Mt Seymour (215/355cm / 86/142") has the deepest reported base.

CANADA WEST FORECAST It should stay mostly dry over the coming week, temperatures typically 10-20 degrees below freezing so cold too. It looks like great conditions with the sun shining until the weekend when clouds are due to roll in.

CANADA EAST REPORT An improving picture in the east with plenty of fresh snow over the weekend. Several resorts reported around 30cm (a foot) on Saturday/Sunday, the most this season for many, temperatures have also stayed low. Mont Sutton (30/80cm / 12/32") down near the US border reported one of the bigger accumulations, but there was also a good dump at Mont Ste Anne (35/71cm / 14/28"), they reported 28cm (11") of fresh snow. It has about two-thirds of its terrain open, the province's second-biggest. Ski areas in Ontario remain closed by provincial government order, the only part of North America where they are.

CANADA EAST FORECAST Staying very cold (10-20 degrees below freezing) over the coming week. Dry for the next few days but fresh snowfall, perhaps 10-20cm (4-8 inches) should arrive from Friday through the weekend before sunshine is back at the start of next week.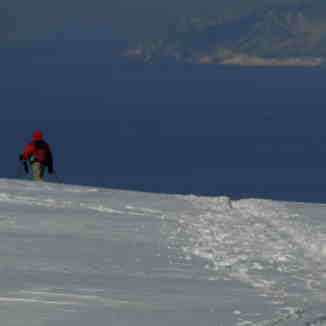 JAPAN REPORT The latest big dump is underway in Japan in the increasingly snowy bounce back 20-21 season after the fairly snowless (by Japanese standards) winter before. Myoko (110/200cm / 44/88") has seen some of the biggest snowfalls of the past month, with another 81cm (32") in the last 48 hours. This has taken its season total to the 8 metres mark already, just a metre less than all of last winter. Blizzard conditions were reported there in the first half of this week, closing lifts. For Niseko (190/330cm / 76/132") there's slightly less intense snowfall but plenty of it, 55cm (22") in 72 hours to start this week and 90cm (three feet) in the past seven days.

JAPAN FORECAST The snow keeps falling and it looks like January 2021 is shaping up as the snowiest month on Japanese ski slopes since winter 2019. Niseko has now had more than three metres of snow in the first three weeks of January.